I could not wait to meet this family. Crystal contacted me a few months back around the same time I did Shannon and Josh's Crescent Beach Maternity Session.
Funny enough Crystal and Shannon are best friends and both their little guy's were due about a month and half apart. Sure enough through Crystal's guy Everett arrived a few weeks early. We had been corresponding over email and as promised I sent Crystal an email near the end of May when her little man was due middle of June. I thought I would just check in and see how things were going, her response was nothing yet and she would know more later in the week. I responded quickly after just to tell her I would check back in a week and see how she is doing then. A few days later I got another email from her. Ironically baby Everett had come into the world as I was responding to her last email. Too funny!
I love the relationships I build with my clients over emails especially with newborn sessions. Most of the time I get emails about a few months before and I love connecting with them over the following months during the journey of those last weeks before baby's arrival. Sometime I even get to do their maternity session like Shannon and Josh's Maternity and Newborn sessions. I just love it. I feel so honoured to be such a special time.
This session was SO much fun. Just look at Crystal's oldest son Miles; ah, is he not just the cutest! This moment when the dog jumped on the couch I just could not handle his little smile and laugh! Everett too… just the cutest little man! SO excited for these four and so looking forward to shooting a family session for them in July! Big congrats Crystal and Jim, so excited for you all!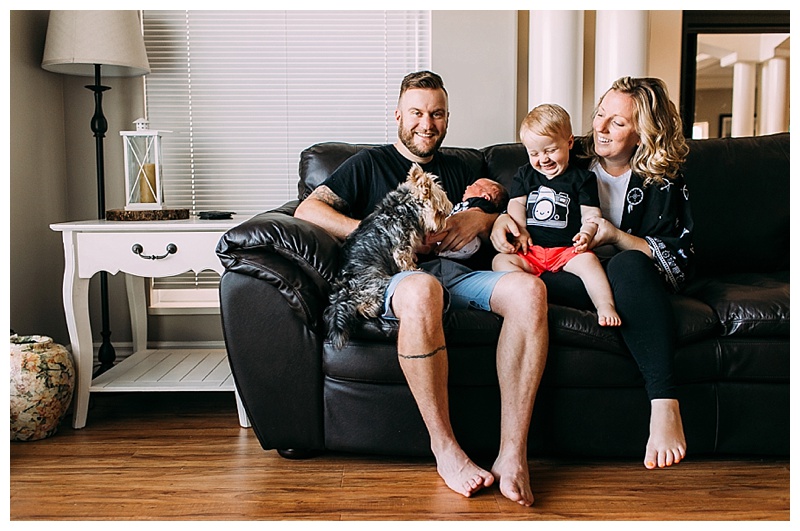 +

+

+

+

+

+

+

+

+

+

+

+Sweet little Rhino Minimocs


+

+

+

+

+

+

+

+